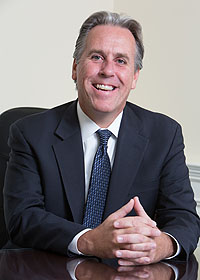 WILLIAM J. BAILEY, PARTNER
Phone: 201.666.8282
Email: wjb@huntingtonbailey.com
PRACTICE
William J. Bailey has significant experience in complex litigation including business and governmental matters; land use and redevelopment; municipal law and government.
Bill has served as city attorney for the City of Englewood, advising on the full range of issues in municipal governance, from zoning and land use, through personnel, finance and litigation.
A certified civil mediator and arbitrator, Bill has served as the court-appointed attorney in both probate and general business matters. As a founding partner, Bill has been instrumental in the development of the firm into a valued and trusted resource for local municipalities, corporations, private businesses and individuals throughout the region.
A lifelong resident of Bergen County, Bill has been active as a coach and volunteer in the community where he lives with his wife and three daughters.
PRIOR RELEVANT EXPERIENCE
Huntington Carver, L.L.P., 1999-2004
DeCotiis, FitzPatrick & Gluck, 1994-1999
Contant, Scherby & Atkins, 1992-1994
City Attorney for the City of Englewood
Borough Attorney for the Borough of Dumont
Board Attorney for the Edgewater Rent Leveling
General Counsel for the Wanaque Valley Sewage Authority
Special Redevelopment Counsel for the City of Hackensack
Lead counsel for sewerage authority which serviced thirteen cities and municipalities located in Essex and Union Counties in complex commercial litigation concerning the construction of a $20,000,000 bio-solids facility
Certified Civil Mediator
Fee Arbitration
Court appointed attorney in general equity and probate matters
Lead counsel for several members of the New Jersey Harbor Discharger's Group in successful challenge of the Environmental Protection Agency's regulations regarding effluent limitations and the establishment of total maximum daily loads before the United States Third Circuit Court of Appeals
New Jersey Counsel for the Christian Brothers Institute
McNally v Providence Wash. Ins. Co., 304 N.J. Super. 83 (App. Div. 1997)
Bryant v. New Jersey Dept. of Transp., 987 F. Supp. 343, D.N.J. February 17, 1998 (No. CIV. A. 97-1397)
Bryant v. New Jersey Dept. of Transp., 998 F. Supp. 438, D.N.J. March 18, 1998 (No. CIV. A. 97-1397)
Bryant v. New Jersey Dept. of Transp., 1 F. Supp.2d 426, D.N.J., May 18, 1998 (No. CIV. A. 97-1397)
In re Cendant Corp. Securities Litigation, 454 F.3d 235, C.A.3 (N.J.), July 18, 2006 (NO. 04-1410)
ORGANIZATIONS/MEMBERSHIPS
New Jersey State Bar Association, Member
Bergen County Bar Association, Member
Brooklyn Law School, New York, New York, Juris Doctor, 1991
Fairfield University, Fairfield, Connecticut, Bachelor of Arts, 1987
Bergen Catholic High School, Oradell, New Jersey, 1983
United States District Court, District of New Jersey, 1991
United States District Court, Southern District of New York, 1995
United States Court of Appeals, Third Circuit, 1998
Law Clerk to the Honorable Kevin M. O'Halloran, Presiding Judge, Superior Court of New Jersey, Chancery Division, Bergen Vicinage, 1991-1992